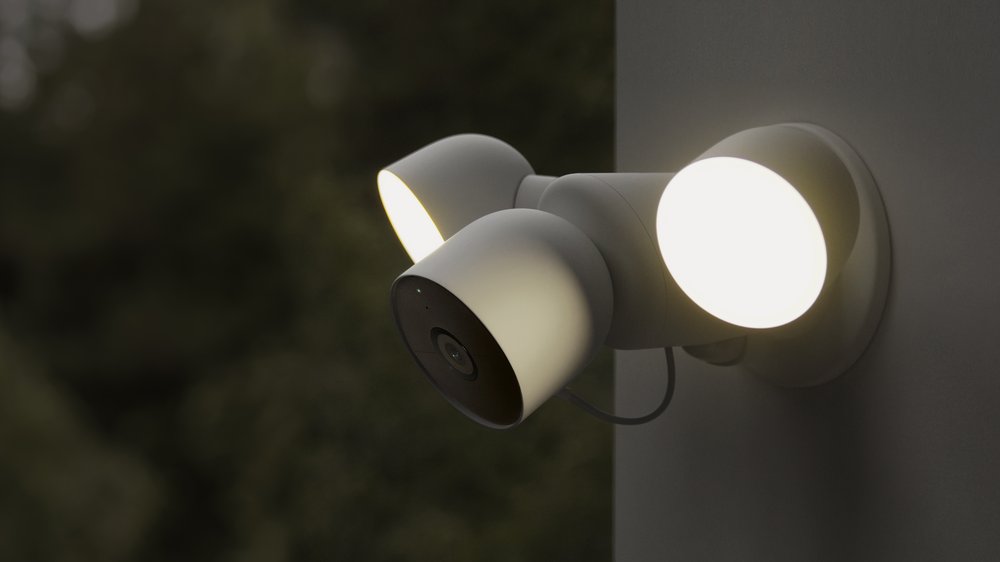 A floodlight does two great things for your front porch: It creates ambient light that welcomes family and visitors to your home — and it deters unwanted guests. But traditional floodlights are activated purely by motion sensors, which can be helpful when you're walking outside in the dark, but not so much when a moth is flying in front of the light. 
So when Nest set out to build our first connected floodlight, we wanted to integrate the smarts in our new Nest Cam to create a more helpful floodlight camera — one that turns on when activity is detected, and can be easily installed and replace an existing exterior light fixture. 
Meet Nest Cam with floodlight, available today for $279.99. It's designed to work exclusively with the Google Home app, so you can check on home or control your floodlight from anywhere. Here are 11 things to love about the newest nocturnal Nest Cam.
Two of a kind: Nest Cam with floodlight combines our newest camera technology with a high-quality LED floodlight. The device is hardwired for continuous power and provides the option for 24/7 continuous video history (with a Nest Aware Plus subscription).
A smarter floodlight: The floodlight is controlled by the smarts of the camera (rather than motion sensors alone) to light up the scene and capture important activity. Instead of the light switching on and off for activity that you don't care about, you can select the types of activity that your floodlight turns on for, such as when a person, animal, or vehicle is detected. For example, set an activity zone so it lights your way when you pull into your driveway. 
Replace your existing lighting: Install Nest Cam with floodlight where you have an existing exterior light or wiring. It comes with what you need to upgrade your existing exterior light right in the box. We've created a

 

step-by-step video

 

as part of the setup process in the Google Home app to make installation a breeze, but you can also

 

enlist the help of a Pro

 

if you need a hand.
Built for the Google Home app: Like the new battery-powered Nest Cam and Doorbell, Nest Cam with floodlight is built exclusively for the Google Home app. In the app, you can adjust the brightness of the lights, turn the floodlight on and off manually or control what kind of events turn the floodlight on. 
Enhanced by Nest Cam features: Nest Cam has built-in intelligence and on-device processing, meaning more features are available right out of the box that used to require a subscription — for example, animal, vehicle and person detection and the ability to create Activity Zones. It also has local storage fallback, meaning the camera will record up to an hour of footage (about a week's worth of events) on-device if the power or internet go out, and when service returns you'll be able to view your clips in the Google Home app.
Your extra set of eyes: In addition to being powered by Nest Cam's intelligence and delivering 1080p video with HDR, Nest Cam with floodlight is equipped with 180-degree motion sensors to detect movement. It's optimized to give you a clear view and be your extra set of eyes where you need them. The floodlights also illuminate the scene, which makes for a clearer image in the dark.
Ambient light you can control:

 

At 2400 lumens, the lights are bright enough to illuminate your patio or front yard in the middle of the night. In the Google Home app, Nest Cam with floodlight can be controlled like a smart light: adjust brightness, motion sensitivity, what the lights turn on for and how long — or manually turn the lights on or off with just a tap.
Set up routines:

 

Nest Cam with floodlight works with your other Nest speakers and displays, so you can control the lights with your voice. In the Google Home app, schedule when your floodlight turns on and set up custom routines either by time or voice command. For example, turn on your floodlight when you say "turn on the backyard light," or at 9:00 p.m. every night. 
A floodlight you can count on:

 

With an IP54 rating, Nest Cam with floodlight can withstand the elements so it's there for you when you need it the most. And similar to our other new cameras, it also requires a Google account, which provides added protection like security checkup, suspicious activity detection and two-step verification.
Add a Nest Aware subscription: With a Nest Aware subscription, you can extend your video history from three hours of event video history (comes with the device, no subscription required!) to 30 days of event video history and add familiar face detection. A Nest Aware Plus subscription extends to 60 days of event video history and 10 days of 24/7 continuous video history.
Thoughtful, durable design:  Made of durable, high-quality materials and a sleek, white design inspired by the lighting we use for the inside of our homes, Nest Cam with floodlight was designed to complement your home's unique character, rather than looking like high-tech security gear.
How to Install Google Floodlight