Hisense is recognized as one of the most sought-after consumer electronics manufacturer brands. The company has previously introduced the impressive 85-inch ULED X OLED TV, showcasing exceptional features including a 144Hz high refresh rate, 2500 nits of peak brightness, and much more. The brand has now raised the bar with its latest offering – the Hisense 100LX. This 8K Laser TV boasts top-notch specifications and is currently leading the industry.
The recently launched Hisense 100LX is a remarkable product, featuring an 8K pixel resolution. It offers support for up to 1.07 billion colors across the screen for seamless transitions and is designed to be easy on the eyes, with zero harmful blue light and strobe. With a staggering 33 million individual pixels, this TV utilizes an ultra-short-focus system architecture design lens with a variable field of view, ultra-high-resolution video signal decoding, and DMD drive technology, resulting in a breakthrough in 8K display technology.
Sound quality is a critical aspect of any TV, and the Hisense 100LX does not disappoint in this regard. It is equipped with 4 independent speakers that support Dolby Atmos and DTS true surround sound, ensuring an immersive audio experience. With the integration of DTS and Dolby Sound technology, the speakers deliver a genuine surround sound experience. The brand asserts that this TV offers the most immersive audio and video viewing experience.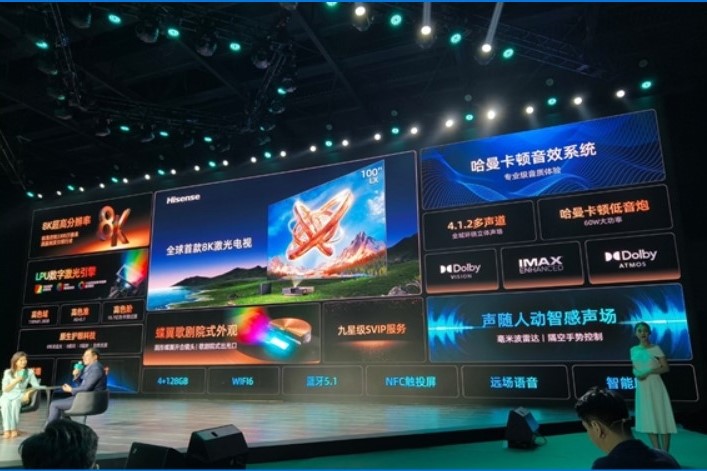 In addition, the Hisense 100LX features the brand's proprietary LPU digital laser engine technology, which maximizes the use of full-color technology throughout the pixels. This technology boasts a remarkable computing level of over 100 billion times per second, resulting in higher light efficiency and improved technical support for larger sizes and more immersive picture quality. This technology takes the product's picture quality to the next level, offering an even more immersive viewing experience.
Moreover, the Hisense 100LX comes with additional features such as 4GB of RAM and 128GB of onboard storage, WiFi 6, and Bluetooth 5.1 support. The brand also asserts that the LPU laser engine technology optimizes the pixel resolution while consuming less power compared to traditional 8K TVs available in the market. This feature enhances the device's energy efficiency and makes it a more sustainable option for consumers.
As for right now, there is no official word on the selling price and availability of the device. We will update you as soon as we get any information on that. That being said, what are your thoughts on the newly launched Hinsense TV? Do let us know by dropping a comment in your words down below.
RELATED