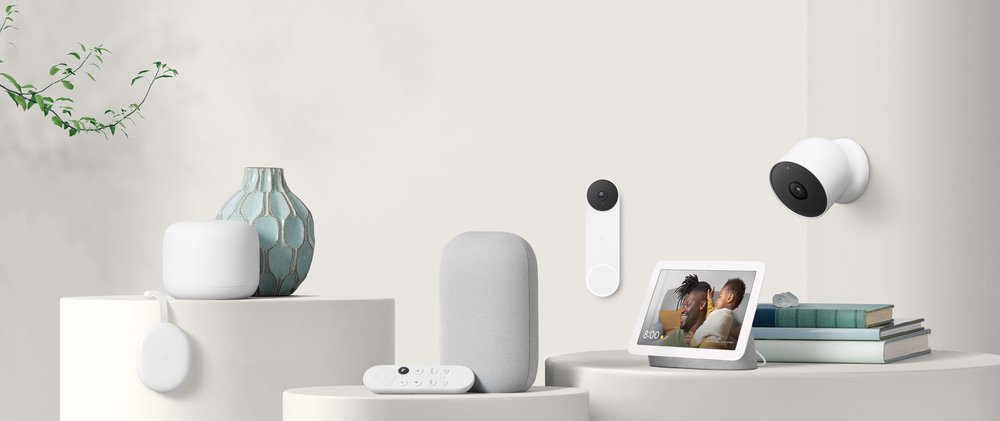 Google Nest Cam (battery)
and
Google Nest Doorbell (battery)
are the latest additions to the Nest family — and they're Nest's first battery-powered security devices, built for every home. Here are 11 things to know:
Smarter alerts, right out of the box:

 

Your new Nest Cam and Doorbell can do more right out of the box because we moved object detection on-device, allowing us to include features that are usually behind a subscription (like Activity Zones and smart alerts, including package, animal, vehicle and person detection) for no additional cost, plus three hours of event video history. Thanks to on-device processing, they can also record up to a week's worth of events if power or Wi-Fi is out.
Made with Machine Learning:

 

Building a camera that uses ML to recognize objects requires showing the ML model millions of images first. Our new Nest Cameras and Doorbells have been trained on 40 million images to accommodate lots of different environments and lighting conditions. Thanks to a cutting edge TPU chip, our new cameras run an ML model up to 7.5 times per second, so reliability and accuracy are even better.
Works in any home:

 

Nest Cam and Doorbell's wire-free designs, built-in rechargeable batteries and optional power connectors allow you to install them where you want — not only where there's a power outlet or pre-existing wiring. 
Set up your way:

 

Make sure to check out

 

Google Store's

 

accessories. In addition to weatherproof cables, a tabletop stand with a power cord allows you to place your Nest Cam on an indoor surface, like a mantle. There's also an anti-theft mount that tethers your Nest Cam to the magnetic mount for extra security. For Nest Doorbell, there's a horizontal wedge and an AC adapter.
Works better, together:

 

Nest Cam and Nest Doorbell seamlessly work with your Nest displays. Just say "Hey Google, show me the backyard" to see your Nest Cam feed. And you can set up your speakers and displays to chime when someone rings your Nest Doorbell, while using your display to see who's at the door and take action from the screen. 
Nest Cam (battery) on white background
All on the Google Home app:

 

It's easy to see all of your events quickly, and your 24/7 live feed at any time in the Google Home app. If you have more than one Nest camera, you can view all of them in one place, alongside your other connected home devices. You can even filter by event type — for example, you can pull up every package delivery. 
See clearly in a variety of conditions:

 

Both Nest Cam and Nest Doorbell have night vision, 6x zoom, and HDR so images are crisp in the dark or bright light. And we gave Nest Doorbell a taller field of view so you can see visitors from head to toe and packages as close as eight inches away from your door.
Extra secure with a Google account:

 

Your devices are only as secure as your account. That's why the new Nest Cam and Nest Doorbell require a Google account, which comes with added protections like suspicious activity detection, 2-step verification and password checkup. Read more about our

 

commitment to privacy and security

 

in Nest's dedicated

 

Safety Center.
Add a Nest Aware subscription:

 

With a

 

Nest Aware

 

subscription ($6 monthly), you'll get familiar face detection and the ability to call 911 from the Google Home app (U.S. only) as well as 30 days of event video history. With a Nest Aware Plus subscription ($12 monthly), you'll get all of this with 60 days of event video history and the option for 10 days of continuous video recording when your Nest Cam is plugged into a power outlet.
Made with care:

 

Nest Cam and Doorbell are made with recycled materials and rigorously tested through drops and extreme weather, like heavy rain and hurricane-strength winds.
Built for your life:

 

Nest technology is designed to fit into your home, not distract from it. Nest Cam is sleek and white and fits in anywhere — indoors or outdoors. And Nest Doorbell's design was inspired by clean, minimalist architecture. In the U.S., it comes in four different colors so your front door can make a great first impression.